Accompanying children in the environmental protection journey
TIN TỨC

18/04/2022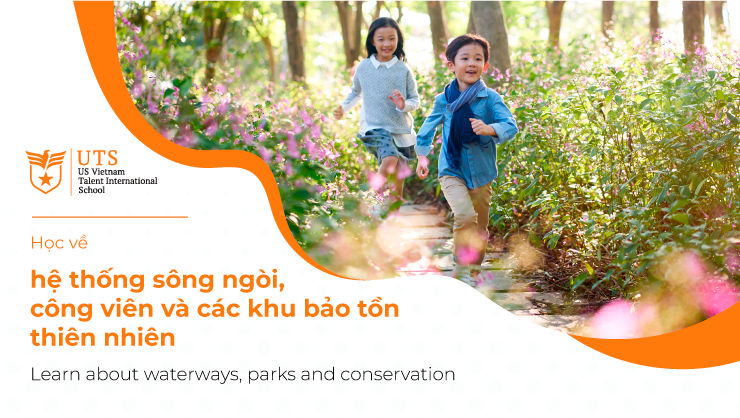 June 5 is designated by the United Nations as World Environment Day. This is an opportunity for us to raise awareness for the community and take active actions to protect our environment.
Environmental protection is a long journey which cannot be done within one or two days. It requires us to have responsibility, patience and especially understanding so that we can act properly to the surrounding environment.
How can parents help children understand more about environmental protection and encourage them to take good actions towards sustainability? Let's have a look at following suggestions from the US Environmental organization (Environment America).
1. LEARN ABOUT PLANTS
– Explore interesting information about the Earth, plants and animals and their current status through books, television and Youtube videos;
– The whole family can create beautìul pictures with dried leaves and flowers;
– Take advantage of the balcony (for high-rise buildings and apartments) and the open space (for ordinary houses) to plant a small garden of lovely flowers and trees;
– Play games to learn the origin of the foods we eat every day and how they are cultivated and harvested.
2. LEARN ABOUT WATERWAYS, PARKS AND CONSERVATION
The water, air and land environments are factors that need to be nurtured and preserved. Parents and childredn can research on many issues such as:
– Learn about the system of rivers, lakes, canals and canals in the neighborhood;
– Learn about water pollution and some ways to reduce it;
– Explore the role of parks, forests and tree planting in reducing air pollution and flooding;
– Learn about the role of natural reservation;
– Learn about types of soil in nature and their current condition.
3. LEARN ABOUT WAYS TO REDUCE WASTE
Waste is one of the most urgent problems that need to be solved at the moment. Within the framework of a family, parents and children can do the following simple methods to limit the overload of waste:
– Reorganize items in the refrigerator to minimize food waste;
– Reuse plastic bags obtained from supermarkets, stores, and grocery stores, then gradually switch to use environmentally-friendly shopping bags;
– Repair broken items if possible instead of throwing them away and buying too many new products;
– Use paper, newspapers, glass, plastic bottles to make decorative items in the house.
4. CREATE A HEALTHIER COMMUNITY
The contribution of an individual or a family cannot completely improve the serious status of our environment. However, with the support of the entire society, environmental problems can be improved and become better. Each family can:
– Post the above meaningful activities on social media to inspire people to protect the environment;
– Walk or use bicycles, public transport in short commute;
– Support funds of afforestation, environmental protection and natural conservation construction launched by trustworthy organizations;
– Participate in running, walking, climbing tournaments to discover the natural world and environmental activities after the epidemic becomes better. Children may that realize the responsibility to protect the environment is not only for themselves, parents, but also the whole community!