Primary is the first step for children on their journey to gain knowledge. This is the crucial stage in the formation of both their academic skills and moral values. With the mission of "growing talent with care", Primary Program at US Vietnam Talent International School provides not only a safe and healthy environment for students but also a place to shape the future, helping children confidently become global citizens.
Primary Program at US Vietnam Talent International School
At US Vietnam Talent International School, the 5-year primary program will help students form and develop core competencies, including 3 common criteria:
Self-study: confidence and bravery, actively exploring, and at the same time know how to seize opportunities, conquer difficulties and challenges ahead.
Ability to communicate and collaborate.
Problem-solving and creativity: help children adapt flexibly in all situations.
Outcomes
Construction: self-discipline, self-control, routine and responsibility.
Development: cultural fine arts, curiosity & creativity.
Primary School Diploma.
Cambridge Flyers English Certificate (equivalent to A2 level under the CEFR European Common Language Reference Framework).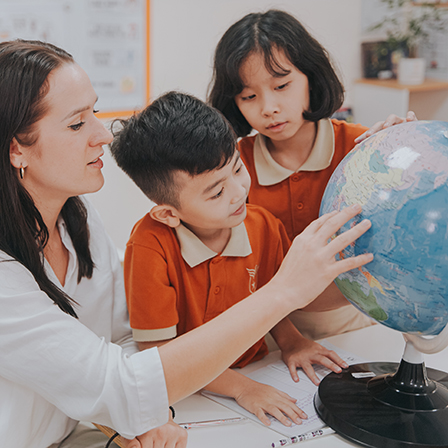 Curriculum Structure at US Vietnam Talent International School
At US Vietnam Talent International School, students' love and natural motivation for learning are extremely important. With a researched and optimized curriculum, UTS students not only learn fundamental and long-term valuable lessons but also have opportunities to play, to run and experience a variety of activities, challenges, classrooms and environments... The programs at UTS includes National program, International program and Growing Talent program. 
The National program at US Vietnam Talent International School
The program is optimized based on the general education program of the Ministry of Education and Training of Vietnam. The program ensures the development of learners' qualities and competencies through educational content with fundamental, practical and modern knowledge and skills.
International Programs at US Vietnam Talent International School
The International Program at UTS includes a variety of subjects taught in English, giving students the opportunity to develop international standard academic competencies in parallel with enhancing global citizen skills. Parents, students can choose either of two following programs
The Oxford International Curriculum - UK
developed by experts from Oxford University Press and based on the UK's National Curriculum. The approach of the curriculum is special: putting the joy at the heart of learning. At UTS, the Oxford International Curriculum consists of five (05) subjects: Well-being, Global Skills Project, Math, Science, and English. 
The Common Core Standards International program - US
built on a selected list of standards from the Common Core State Standards (CCSS) and the Next Generation Science Standards (NGSS). The program consists of three subjects: Mathematics, English and Science.
Growing talent program at US Vietnam Talent International School
The program equips students with knowledge, skills and cultivates the core qualities so that students can maximize their potential. The program consists of 4 parts: physical education, personal development; social skills, arts, science and technology.
Primary Students at US Vietnam Talent International School
Each class at UTS is organized as a miniature community. This is where students become the center of all activities, and teachers are the ones who inspire, observe and facilitate. They are given the opportunity to make their own decisions as well as the freedom to collaborate and support each other. This will help them build trust, understanding, empathy and inculcate the standard moral values in their subconscious mind from an early age.
Sharing of our Nurturers

Ms. Nguyen Bich Thiet
During the 10 years of accompanying children, I think that no student is incompetent, the crucial thing is the adults really keep patient with their children or not. All students' creativity and confidence should still be within social norms as well as their age.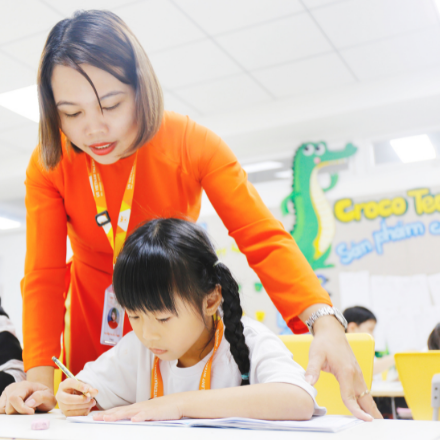 Mr. David McCracken
I always tried my best to help students feel comfortable in the class. Likewise I hope my students to learn be kind with people surroundings from everyday lesson.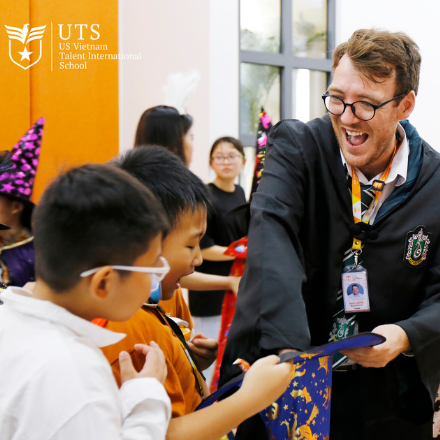 Discover more about UTS
Parents and students access following address for the tuition fee and policy:
FEE SCHEDULE AND POLICY

In addition, parents can discover more information about our flexible financial solution which is "growing talent" financial package:
FINANICIAL PACKAGE