[Humans of UTS] – UTS Homeroom Assistance Agent: "I love UTS' students as my own kids!"
TIN TỨC

25/05/2021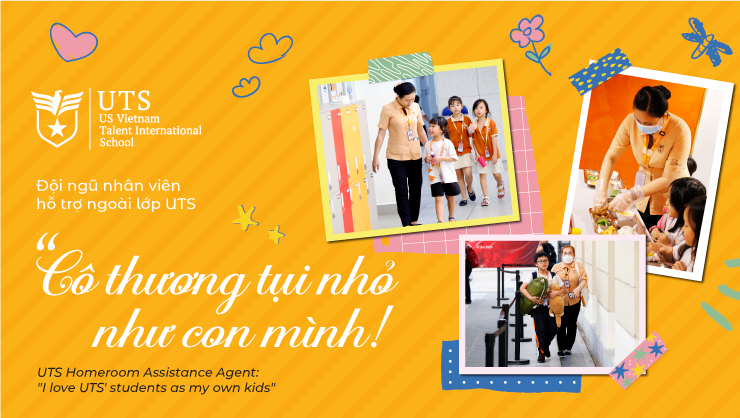 At UTS, Grade 1 and Grade 2 students are specially taken care by the Homeroom Assistance Agent. Our little students are the ones who are still unfamiliar with the new learning environment. The support and guidance of the teachers are stepping-stones for them to gradually adapt to school and develop their own abilities.
Talking about her work, Mrs. Hong Quyen – Grade 2 Homeroom Assistance Agent shared: "Every morning, I accompany UTS-ers on the school bus. All students' activities at school such as learning, eating and other personal needs are closely monitored and helped if necessary. My working day just ends when all the children have returned home safely after a day studying at UTS."
In the classroom, students are equipped with both academic knowledge and soft skills. Then outside, there are also special "teachers" who are ready to instruct them about the simple activities in life. Ms. Thanh Dan shared: "Although I am responsible for supporting Grade 1 students with personal activities at UTS, I always try to let the children gradually learn to be independent and actively complete the tasks. If they depend on me too much, they will have a hard time without my help when they get older."
"This job is hard, but it brings us a lot of joy. We love UTS' students as our own kids. Therefore, we always strive to make them feel happy at school. During these days when UTS-ers had to study at home because of the pandemic, we miss them so much. We just hope the pandemic will be over in the next school year so that we can continue this special job!" – shared Mrs. Quyen.
Each member of UTS family tries to nurture future talents to bring them the most comprehensive learning and playing environment. Let's say "thank you" to the Homeroom Assistance Agent at UTS for their silent but meaningful contribution!