Nurturing a love of Learning with the National Program at UTS
TIN TỨC

15/08/2022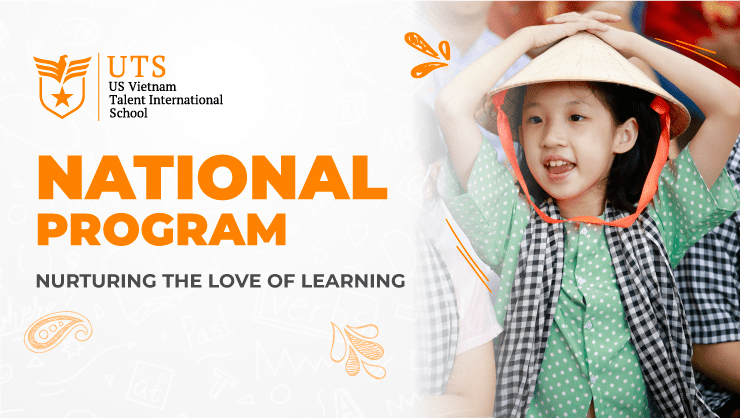 National Program at UTS: 
The National Program is a standard program under the new curriculum framework of the Ministry of Education and Training for all levels of education. At UTS, this program is more optimized and focused on practice to help students master general knowledge, effectively apply learned knowledge and skills to life. Besides, UTS likewise equip students with essential knowledge and skills so that can choose appropriate future careers and lifelong learning as well as understand how to build and grow in harmony with social relationships, freely express oneself and enrich spiritual life.
Teaching Methods
UTS students have access to the optimized National High School program through many methods: project-based class, inquiry based class, reversed class, etc. These are modern methods which are studied to bring higher efficiency than traditional learning methods. As a result, students acquire knowledge more actively, arouse their passion for learning and discovery. Moreover, students will more effectively grasp the focus of each subject. In addition, several UTS learning projects connect multiple subjects, giving students not only the opportunity to study each subject individually, but also to link interdisciplinary knowledge and apply it in practice.
UTS operates concurrently the National High School Program with the International Program and the Growing Talent Program; it provides students with lessons associated with traditional Vietnamese values, assists them in appreciating and promoting traditional features in the community, and encourages students to become global citizens who are always prepared for future changes.
Let's take a look at the outstanding classes in the last 2021-2022 school year!
1.  "Ao dai of Vietnamese" Project – Vietnamese Class – Grade 5
This is a project about Vietnamese traditional ao dai in Vietnamese class 5 by Ms. Bich Quy. By practical application to theory, they temporarily left  the familiar school uniform and instead  put on the traditional Ao Dai as described in the lesson. This made the lesson more interesting and helped students be impressed with the lesson, have an insight into the culture, tradition and develop national pride.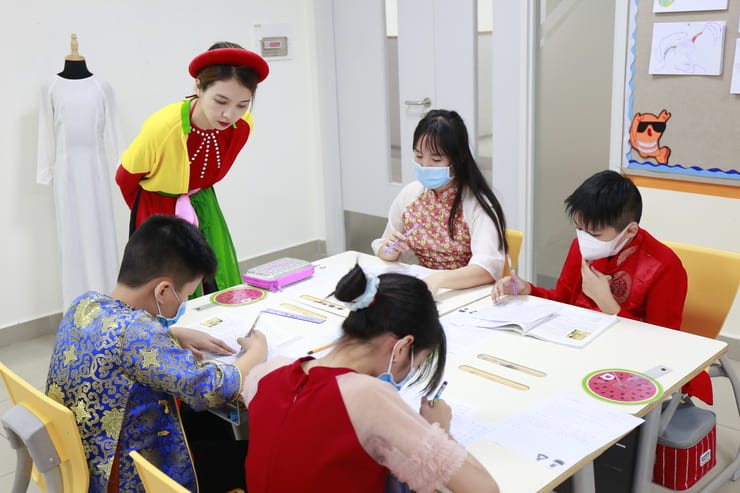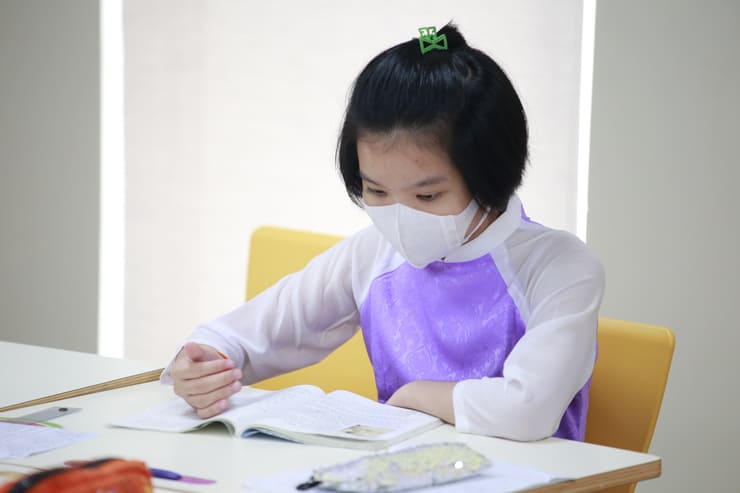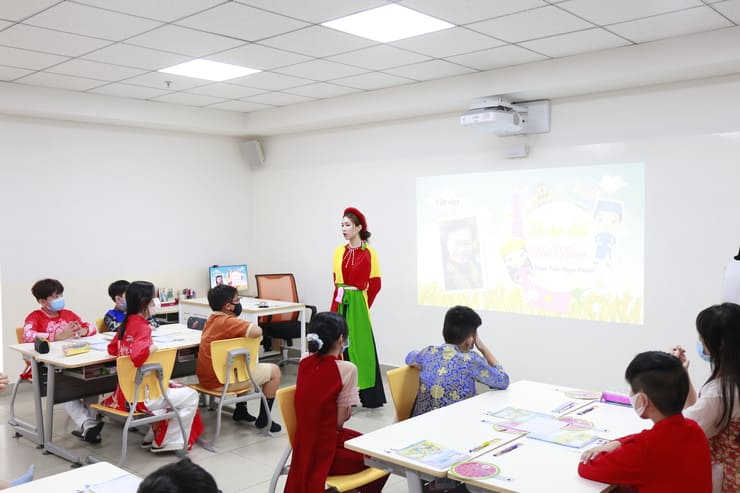 2. "My hometown festival" Project – Vietnamese Class – Grade 3
Stepping out of the classroom space, students can acquire new knowledge more intuitively and vividly when participating in a village festival organized by themselves with the help of teachers. The performances of Ao Dai, folk songs, and presentations were confidently performed by the children in a lovely yet professional manner.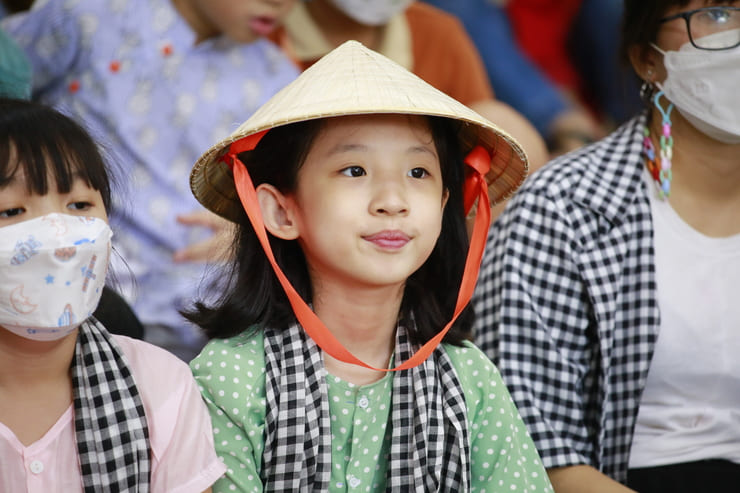 Effective learning is not necessarily about focusing on books, sometimes it is practical experience activities that help students have better memory. Besides studying, this was also an entertainment playground for children to make friends and had more comfortable moments in studying and going to school.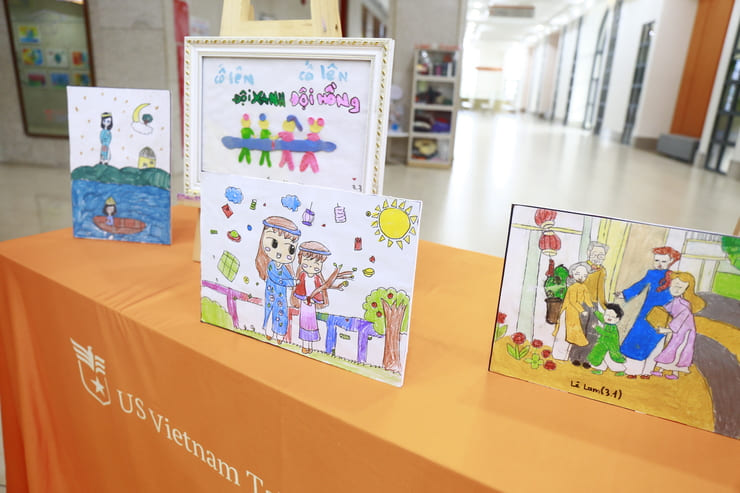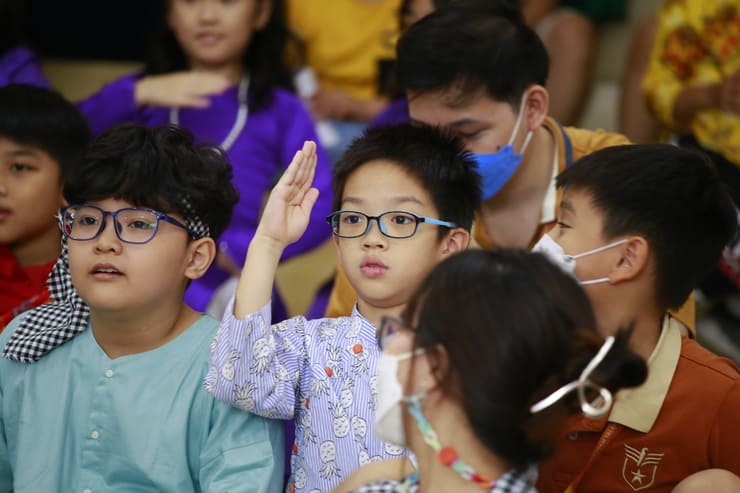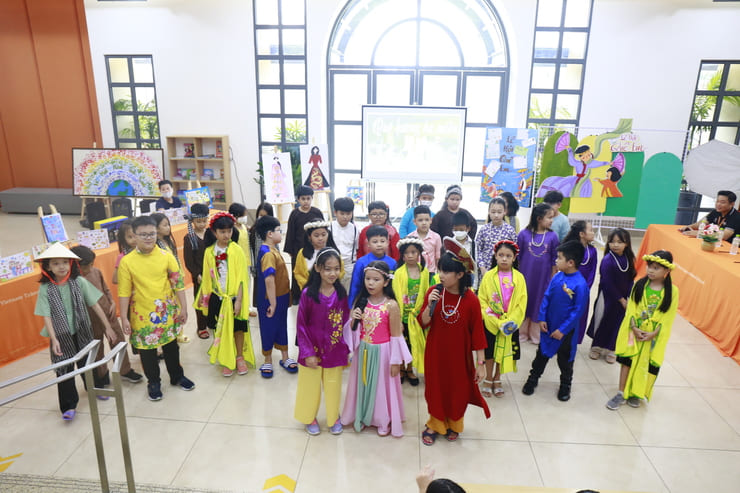 3. "Discovering the seasons and nature" - Nature and Society - Grade 2
Nature & society subject is an important subject for primary school children because they are at the age of learning about the colorful world. In this class, the children worked in groups and together explored the seasons and nature around them, solving problems posed by the teacher. With the help of the teacher, children were more assertive in speaking in front of the class, stimulating self-learning, and increasing interaction in the classroom.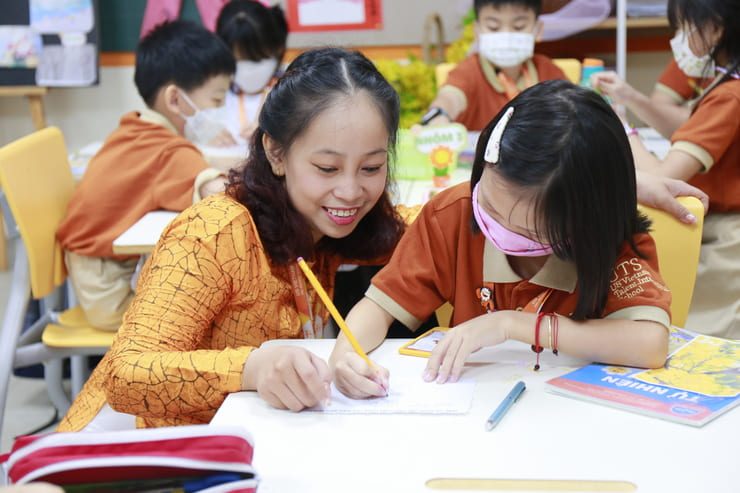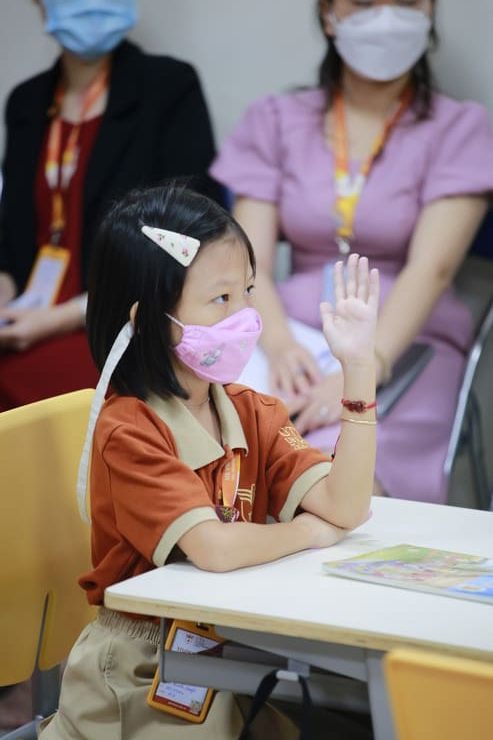 4. "Adventure travel" – Vietnamese Class – Grade 4
What if the class was an adventure tour? Ms. Phuong Linh's Vocabulary and Sentence Practice class was an interesting journey that took you on an adventure tour to explore 5 oceans right at UTS. Children designed their own diagrams of vocabulary related to adventure travel and made sentences with those words. Then they presented their group's work and listened to sincere feedback from teacher  and other group members.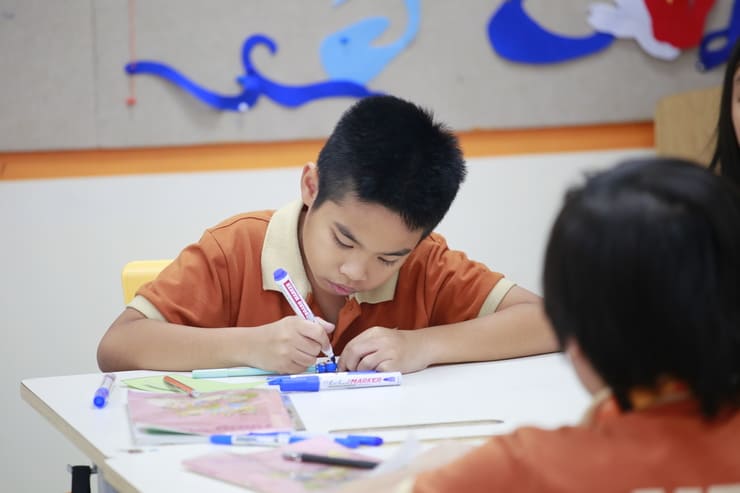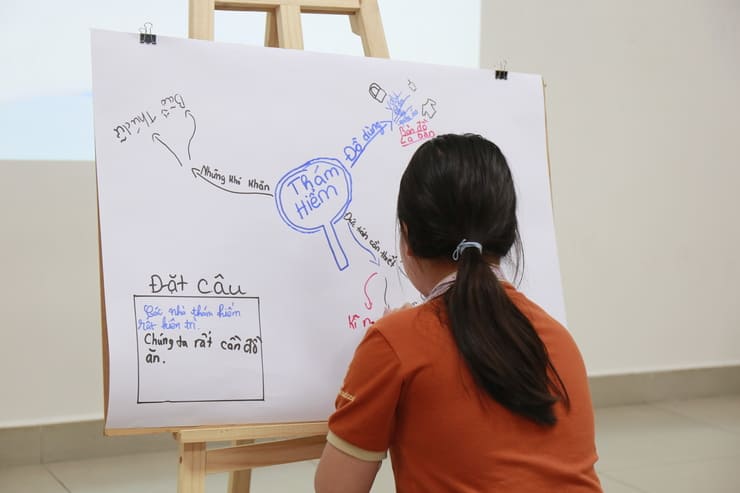 5. "Little Teaching Assistant" – Math class – Grade 3
Math was no longer be boring when transformed in a more interesting way by Ms. Thuy Trang. Instead of focusing on learning knowledge and solving problems in the traditional way, the lesson  was a simulation of a flight and the students were the passengers with the guidance of an assistant student in the role of a flight attendant accompanying them on that math flight. The purpose of learning Math is to help children understand Math concepts and develop curiosity. The same is with learning math, solving exercises and answering questions, but this is a lesson that has impressed and stimulated the desire to learn.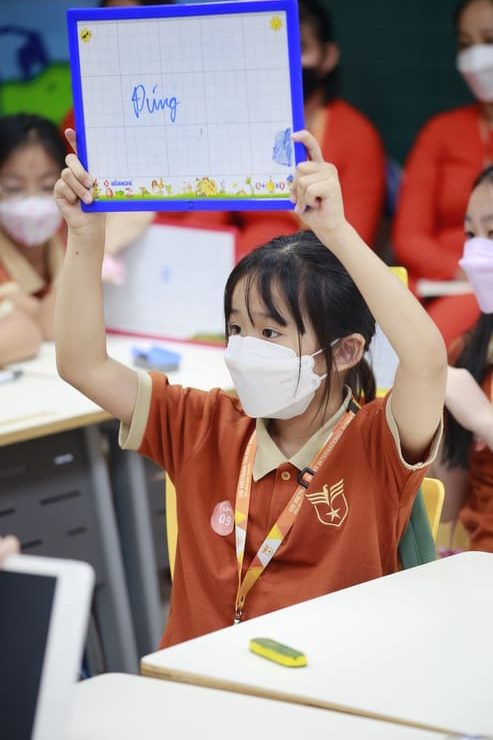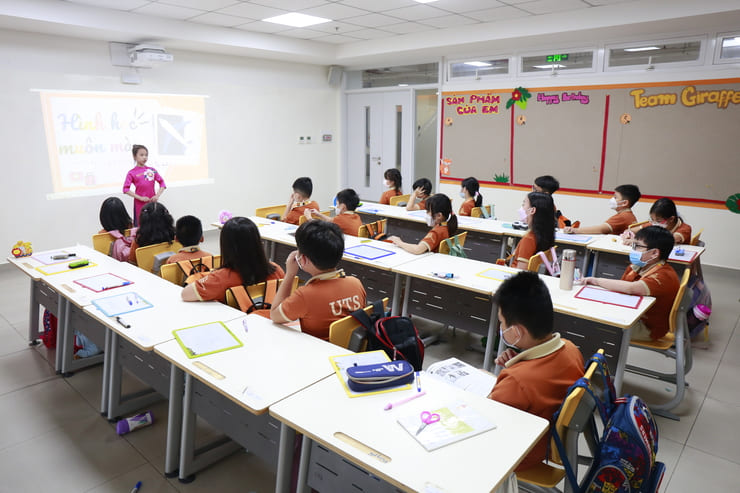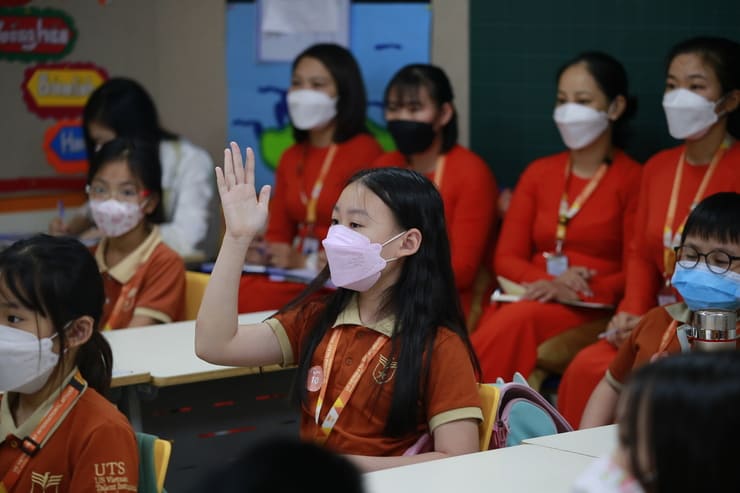 6. "Connecting knowledge" – Interdisciplinary – Grade 4, 5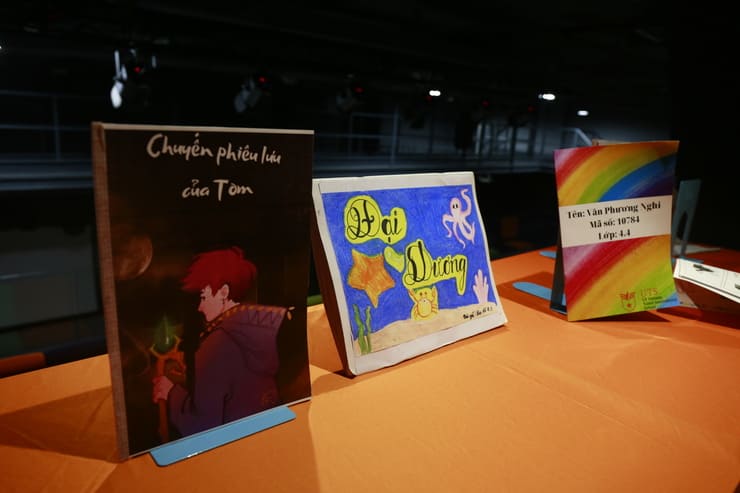 Understanding the importance of reading and also being one of the school's orientations for UTS-ers, elementary school teachers organized a reading project "Connecting knowledge" specifically for students in grades 4 and 5. As a project combining three subjects: Vietnamese, fine arts and informatics, this formed and nurtured a reading culture for students to help them prepare for adding school skills and gaining new insights. During these six exciting weeks, the children had the opportunity to use their creativity and meticulousness to create bookmarks, book covers. Moreover, students learnt how to create unique stories and carry many meaningful messages. The products were displayed and introduced to everyone during the "Book Review" week. Through this project, in addition to helping children gain more knowledge in many fields, understand traditional cultural values ​​and national spirits, the project "Connecting knowledge" also gave them the opportunity to practice their skills to cultivate necessary competencies in the 21st century.